Terraces in Herbewo Office Centre
Herbewo Office Centre was designed and built with unique, three-level green rooftop terraces (with a surface of more than 400 m2), decorated with composition of permanent and seasonal plants.
The top viewing platform offers a splendid view of the Old Town of Krakow and the Tatra Mountains far in the distance. This quiet spot surrounded by greenery has become the favourite meeting point and relaxation spot for employees of our tenants.
From early spring to late autumn the flowery terraces provide an awesome setting for open-air business meetings, as well as entertainment and team-building events. Corporate promotional events of various kinds have been successfully held here, ranging from small cocktail parties in an intimate atmosphere to torch-lit fashion shows.
The terraces served also as rooftop cinema hosting Off Camera Festival.
The spot has been used as filmset for TV and video-clip productions. Resto-Bar-Gallery Zielone Tarasy, renowned for its fresh seasonal dishes, is located on the terraces.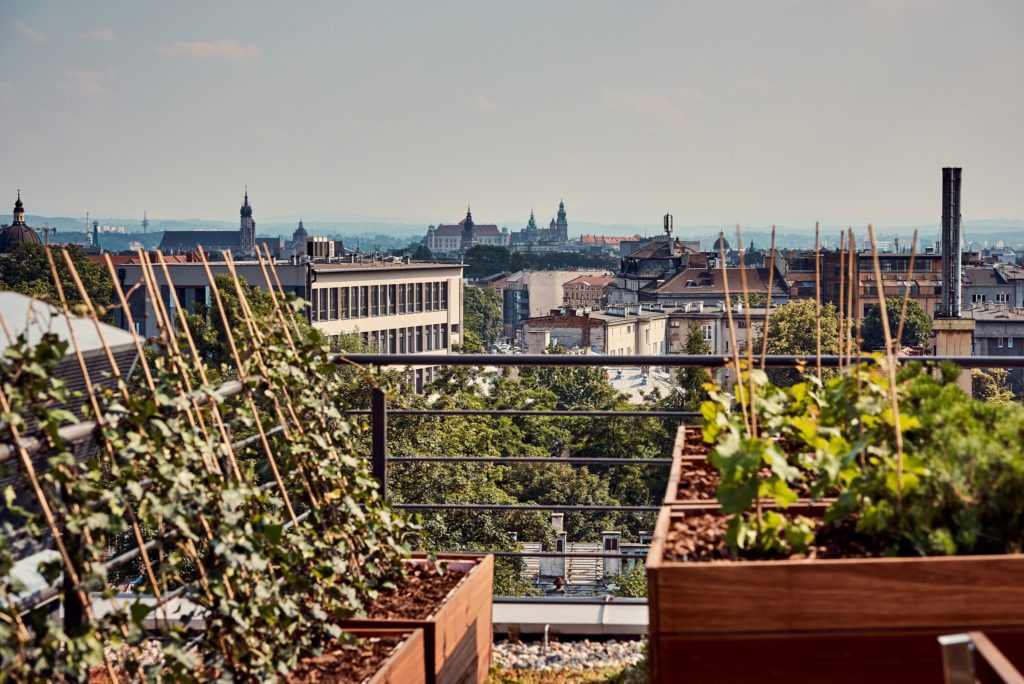 Regent Office Terraces
Regent Office green roof is available to employees of companies renting office space in the building and their guests throughout the year.
One part of the roof is an original relaxation area with greenery and comfortable sun loungers. It is space that inspires and stimulates the creativity. The green roof offers a breathtaking view of the Old Town and over greenness of Krowodrza district.
An experimental vineyard was set up on the roof: grapes in the pots fruited astonishingly quickly after the first year. The name of the office building comes from the name of the German grapevine variety – Regent.